African Drumming Workshop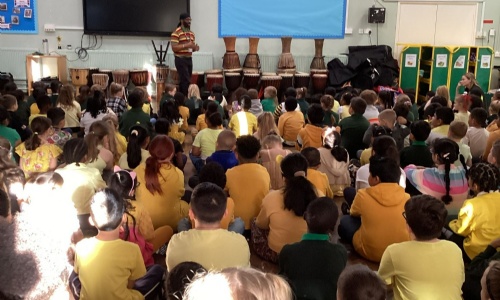 The African Drumming Workshop which took place on 10/10/23.
The whole school had the most amazing opportunity to experience another culture's music today. Each class had a workshop where they had a go at play 'bim' and 'da' on a djembe drum which is a drum most frequently used in West Africa. We learned that the drum is carved from wood and the drum head is animal leather - in this case, it was goat leather!
The children were taught rhythm and were challenged to work as soloists, rounds and in unison to try and maintain a rhythm; they practised the hand positioning to play the drum to produce different pitches and some children even got to orchestrate their friends! Year Six even got to practise some of the performance music from The African Ballet.
Please take a look at the photos which we took of the children enjoying their cultural celebrations!